Teach Pendant Repairs:
The Teach Pendant Unit (s4 – s4c) and Flex Pendant Unit (IRC5) have changed over the years and below is a chronology of ABB units used. Please use this to check your model.
This was the first ABB Teach pendant Launched in 1994 with the M94 s4 controller. The robot cabinet was tall and had the small Teach Pendant Plug. The TPU was large and heavy in design and was very similar to the S3 1 line TPU. This Teach Pendant can be used with the later M94A and M96 cabinets but not with the s4c compact cabinets.
ABB Part number: 3HAB 5386-1
This was the Second Generation ABB Teach pendant Launched in 1996 with the M96 s4 controller. The robot cabinet was tall and had the small Teach Pendant Plug. The TPU was compact and lightweight in design. This Teach Pendant can be used with the Earlier M94 and M94A cabinets but not with the s4c compact cabinets. This is the standard s4 TPU that is used now replacing the older outdated 1994 TPU
ABB Part number: 3HNE 00028 SUPPLIED WITH BACKLIGHT
ABB Part number: 3HNE 00026 SUPPLIED WITHOUT BACKLIGHT
This was the Updated Second Generation ABB Teach pendant Launched in 1997. It was identical to the M96 TPU except that the Plug was larger and had more Pins. It was launched with the new M97 s4c robot controller. The Panel was compact in design. This Teach Pendant can be used with the Earlier M94 and M94A cabinets if the s4c -> s4 plug adaptor is utilized. it can be used with all s4c and s4c+ cabinets. There are different variants with backlight and software updates but all are compatible up to IRC5
ABB Part number: 3HNE 00313-1 SUPPLIED WITH BACKLIGHT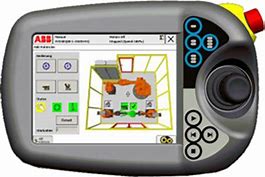 The next Generation of ABB robot and still active today was launched in 2004. The IRC5 with RobotWare 5.09 came with a state of the art touch screen Teach Pendant. This was now known as a Flex Pendant Unit (FPU) because of the powerful computer inside it which could run PC applications as well as the Rapid Kernal software. This can be used on all RobotWare 5 Software but not on the latest version RobotWare 6. This was known as IRC5 GTPU2
ABB Part number: 3HAC12929-1 SUPPLIED WITH 10 meter cable
ABB launched a smaller lightweight version of the FPU and had extra Jogging softkey buttons This can be used on all RobotWare 5 Software. This was known as DSQC679 IRC5 GTPU3
ABB Part number: 3HAC028357-001 SUPPLIED WITH 10 meter cable
The following parts can normally be repaired on your Teach Pendant Unit without having to purchase a new or service exchange unit:
Main Screens

Touch Screens

Cables

Keypads

Joysticks

Emergency Stop Buttons

Cases

IRC5 Membranes